September Speaker
Gary Haas - Intro to Killifish
Date: September 3rd, 2015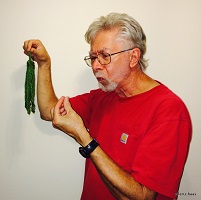 Gary first got into fish keeping in the 70's, as a lonely transplant to northern Virginia. He bought an aquarium for his apartment and joined a fish club, and then things snowballed. Working as a furnace repairman, he kept encountering abandoned aquaria cluttering up people's basements, and when he inquired, he would be invited to "Take it home. Free. Just TAKE it!" His fish room grew by leaps and bounds. He encountered killifish (exotic in those long-ago times) at the fish club, and was hooked when he entered a regional fish show (his first) and took home trophies for both killis he entered. He joined the American Killifish Association (AKA). His expanding fish room took over his life.
Then tragedy struck. He went to college, started a career, got married, and raised children. With only one aquarium. Or less.
Fortunately, nothing lasts forever. The kids grew up and moved out. Gary retired. His bride of 30 years, the lovely Ellen, said "Find something to do!" So Gary cleaned out and painted the basement, set it up as a fish room, re-joined AKA, and became active in the local fish club and the local AKA affiliate, the Keystone Killi Group. As a wandering minnow returned to the school, Gary has become a proselytizer for killifish.