February 2015 Speaker
Carmine Sesa - Starting up a Saltwater Aquarium
Date: February 5th, 2015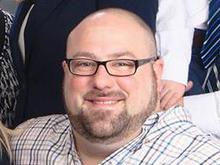 I love the ocean and love having it in my living rooms I have kept all different kinds of aquariums throughout the years but my passion is the reef tank! And I want to share my passion with people! When I had the opportunity to buy The Pet Shack in 2012 I jumped at the chance. The Pet Shack carried various kinds of aquarium creatures and slowly I began to shape it into what Coral Reef & Frags has become today. Coral Reef & Frags is a full line Marine Aquarium Store run by a family who absolutely loves what they do and without a doubt knows what they are talking about. Many customers have come to us wanting to be reefers but were apprehensive about starting a saltwater tank. That was where the fun began!
We became a family owned business in December 2012 at The Pet Shack and moved to our new location in August 2014, now called Coral Reef & Frags. During our time at The Pet Shack we were able to share our passion with so many people. When we changed locations we were overwhelmed with just how many of these wonderful people volunteered to help us move. These folks just stopped what they were doing and dedicated their precious time and energy to help, just like that! Amazing! While we were incredibly moved by the gestures of these people, it made us realize that our passion for what we do is spreading fast and we are having an effect on people. That simply makes our day!
We are excited to share our new store with all of our old friends as well as with many new ones. I hope to show how easy it is to get into the saltwater side of the hobby and how rewarding it can be caring for the ocean in your living room!